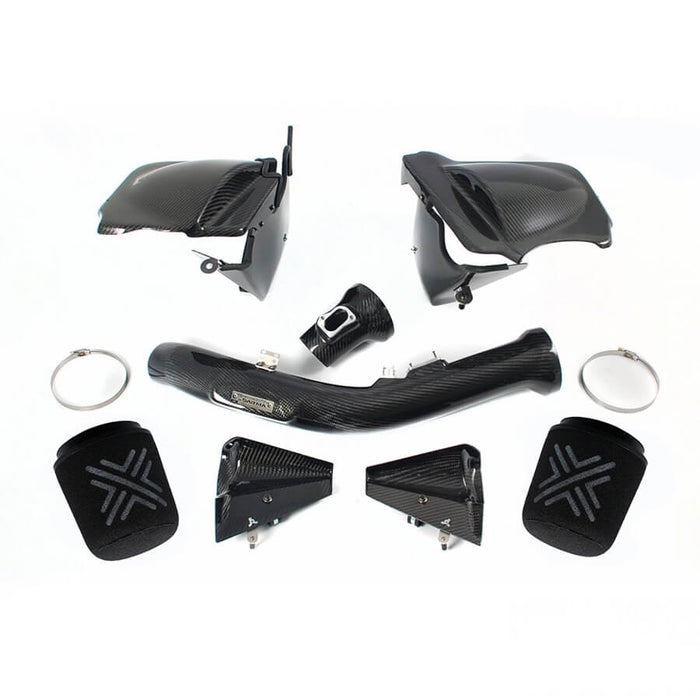 Pipercross V1 Carbon Fibre Air Box - BMW M3 / M4
£2,190.98 inc. VAT £1,825.82 excl. VAT
Pipercross V1 Carbon Fibre Air Box for the BMW M3 and M4
Pipercross have firmly established themselves on the automotive tuning market with over 25 years of filtration experience under their belts.
The V1 Carbon Fibre Air Box for the BMW M3 or M4 is their latest addition to their impressive range of air boxes. A direct replacement for the standard and restrictive air box on your BMW, the carbon fibre material that Pipercross put in place provides you with a strong and lightweight system that is more than capable of improving the power and torque outputs of your vehicle.
The multi-layered foam filter that is used throughout Pipercross' air boxes offers you an exceptional level of engine protection to give you that much needed peace of mind that your BMW M4 is in the safest possible hands.
Key Features:
Enhanced Power Upgrades
Improved Fuel Economy
Longer Lifespan
Includes Full Fitting Kit
Applications:
BMW 3 Series (F30/F31) M3 3.0 V6 (2014-)
BMW 4 Series (F32) M4 3.0 V6 (2014-)
View the Pipercross Manufacturing Process in the YouTube clip below:
Need Further Details?
Please contact the team for further details regarding the V1 Carbon Fibre Air Box from Pipercross. VUDU Performance have a team of highly skilled technicians on hand along with our very own HUB dyno at our state of the art workshop facility in West Yorkshire. Give the team a call to discuss the fitting and dyno testing options available for your BMW M3 or M4.
Call or Email to discuss:
T: 01924 228042 | E: sales@vuduperformance.com
Take a look
You might also like