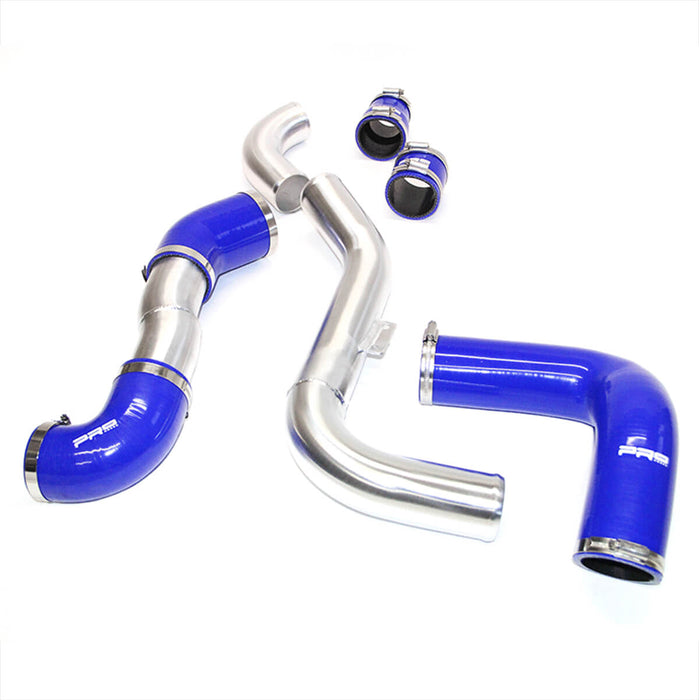 AIRTEC Cold Side Big Boost Pipes - Ford Focus Mk2 ST & RS Models
£363.82 inc. VAT £303.18 excl. VAT
AIRTEC's Cold Side Big Boost Pipe Kit for the Focus RS & ST
**Please note discounts codes are not accepted on this AIRTEC product. Any orders placed using a discount code will be contacted to pay the difference.**
The 2.5" Cold Side Big Boost Pipe Kits from AIRTEC Motorsport is another piece of kit strongly recommended for any remapped Ford Focus RS or ST model that is producing insane amounts of power.
Manufactured in 2.5" light-weight alloy and connected with 5 ply silicone hose joiners, the Cold Side Big Boost Pipes comes with a 70mm Cold Side Hose to fit standard size throttles.
Replacing Ford's restrictive 2" boost pipes, AIRTEC witnessed gains of 11.8 bhp along with an increase of 9 lb/ft of torque over the standard pipes, these gains were achieved by bolting on the Boost Pipe Kit.
Featuring swaged ends to prevents the pipes from blowing off, the Cold Side Big Boost Pipes have been specifically designed for Focus RS Models producing around 400bhp.
Please note on hose colours other than black, your order can take up to 4-6 weeks to arrive.
Cold Side Big Boost Pipe Kit Fits the following Intercoolers:
AIRTEC
Pace
Pro-Alloy
Forge
Ford OEM
Direct replacement! No modding required
AIRTEC part no: ATMSFO55

Please note that this product is a Symposer Delete Item.
Please select your Focus model from the drop down list along with throttle body size and hose colour option.
Require a Fitting?
Fitting the AIRTEC Cold Side Big Boost Pipes on to your Ford Focus will take 1-2 hours, please contact the team at VUDU Performance for further details on fitting the item on to your vehicle.
Please note the Big Boost Pipe Kit MUST be fitted with 2.5" outlets on the intercooler when fititng to a Focus Mk2 ST225. The Kit will NOT fit the Stage 1 or Stage 2 Intercooler, but WILL fit the Stage 3 Intercooler on the Focus Mk2 ST225.
Call or Email to discuss:
T: 01924 228042 | E: sales@vuduperformance.com
Take a look
You might also like