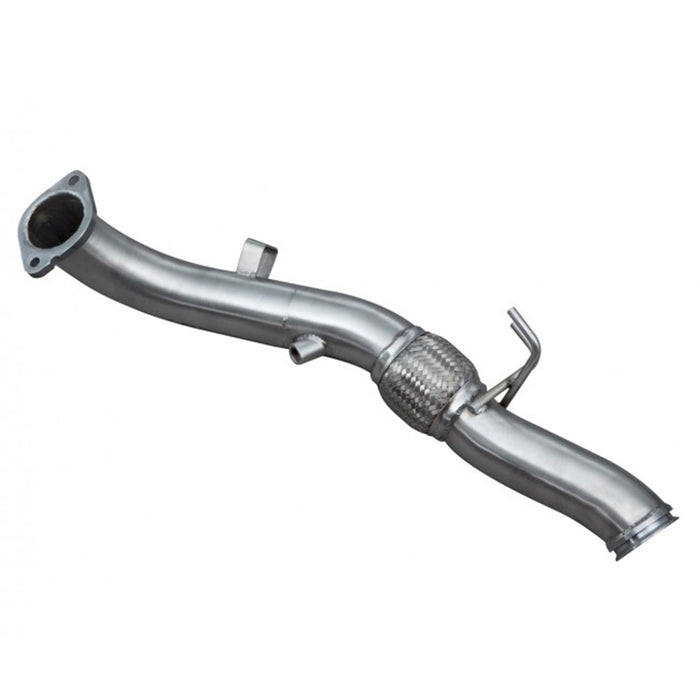 Cobra Sport Decat Front Pipe - Ford Focus RS Mk3
Regular price £370.01 £333.01 inc. VAT £277.51 excl. VAT
FD84 - De-Cat Front Pipe from Cobra Sport for the Ford Focus RS Mk3
The Focus RS Mk3 performance exhaust De-Cat Front Pipe fits from the centre section to the turbo.
Cobra Sport have produced a range of performance enhancing sports exhausts for the Focus RS Mk3 that you can view at VUDU Performance.
Manufactured in 3" bore mandrel bent stainless steel pipework, Cobra Sport will take your Focus RS to the next level with an increase in both power and torque.
The Cobra Sport sports exhausts range is fully guaranteed to give you assurance of the quality with the exhausts enhancing the sound, looks and quality of your Focus RS to give you the greatest possible driving experience.
This large bore downpipe with de-cat sports exhaust is sold for motorsport and off road use only and will NOT be able to pass a UK MOT emissions test or police road side checks. This exhaust however, is also available as a high flow sports catalyst version, which will pass these checks.
Key Features:
Engine: 2.3L EcoBoost 350PS
Fits O/E & Cobra Sport Cat Back System
3"/76.2mm bore pipework
All relevant fittings and gaskets are supplied. (Except turbo gasket).
View the Cobra Sport Downpipe on the Focus RS below:
If you require a fitting please contact us on the below details:
T: 01924 228042 | E: sales@vuduperformance.com
Please note this exhaust is designed for motorsport use only. You will not pass a UK emissions test or police road side check with this exhaust installed on the vehicle.
Take a look
You might also like