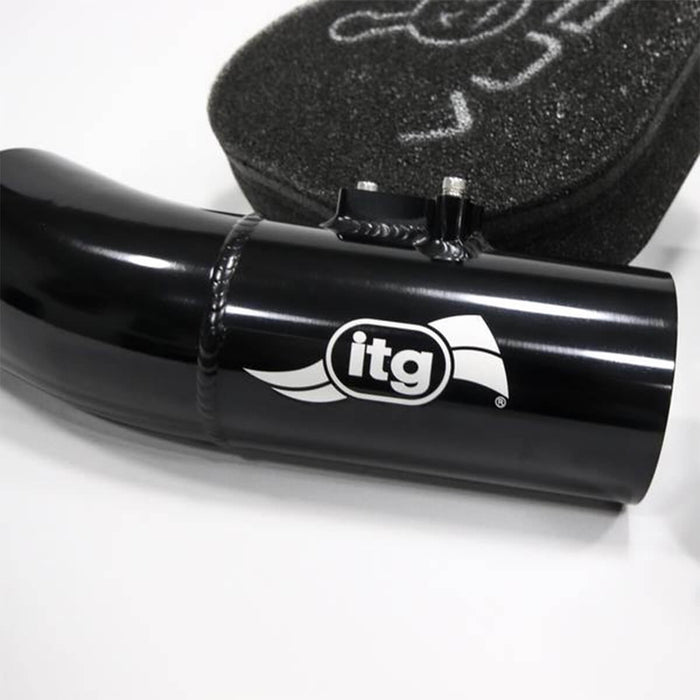 ITG Induction Kit - Ford Fiesta ST180 Mk7
Regular price £269.99 £242.99 inc. VAT £202.49 excl. VAT
ITG Induction Kit Fiesta ST MK7 / ST180.

The ITG induction kit for the Fiesta ST MK7 is the best product on the market for the Ford Fiesta ST. This air filter system enables the best airflow and has been dyno proven time after time to offer performance gains and increased induction sound.
Why not buy a cheaper induction kit like Forge Motorsport, J1, SD or Ramair filter?
We have tested hundreds of Fiesta ST MK7 running non-ITG air filters and we have seen everything from EML lights poor running and loss of performance to name a few. We have found that by removing the offending air filter and replacing it with an ITG Induction kit the engine increased in power, intake temps were lower, and a noticeable increase in intake noise.
All of our Fiesta ST Remap has been designed and tested to work with all of the VUDU Performance tuning range it is the best air filter on the market for the Ford Fiesta ST180 MK7.
Through our many years of Fiesta tuning with re maps and other modifications, that the Fiesta ST Cold Air Intake by ITG is the best performing Fiesta ST induction kit on the market. The filter is mounted down behind the bumper, away from the power-robbing heat from the engine ensuring the highest levels of cold airflow. This placement results in improvements with throttle response, and a pleasing yet unobtrusive increase in intake temperatures.
KEY FEATURES
Perfect location for cold high-pressure air
Heat soak is reduced
Short direct path for airflow
The high-quality world-leading multi-layer foam design
Filter size increase by over 50%
Perfectly sized CNC MAF housing means short term fuel trims are not affected
Increased turbo intake noise and diverter valve discharge
VUDU has proven to be over + 300HP - we use this kit on all stock turbo, hybrid and P3XX turbo systems at power levels in excess of 370hp
Improved engine bay aesthetics
Applications
Fits all global 2013 and newer Ford Fiesta ST 1.6T
This induction kit will NOT fit the 1.0ltr EcoBoost.
We have many other Induction kits to fit the Fiesta ST range if you are looking for something more cost-effective.
ITG Airfilters are the leading manufacturer in the UK for all things cold air feed. They have been making intake kits and air filtration products for the motorsport industry in excess of 20 years working with formula one to British touring cars.
Require Fitting?
If you would like us to fit the ITG Induction Kit Fiesta ST MK7, get in touch with a team member to arrange it for you. Our expert technicians will have no problem fitting it and will allow you to have peace of mind.
Contact us?
You can contact a member of our team using our Contact page.