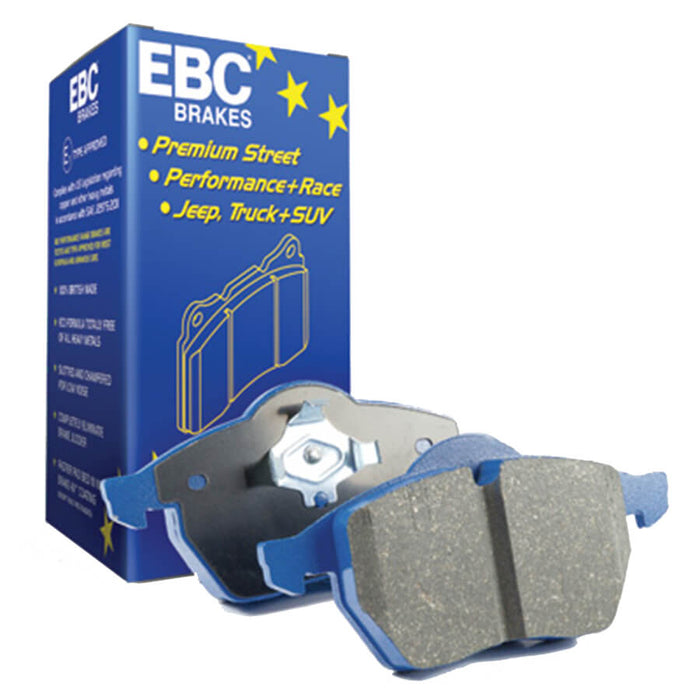 EBC Brakes Bluestuff NDX Brake Pads - BMW M2
£168.00 inc. VAT £140.00 excl. VAT
EBC Brakes Bluestuff NDX Brake Pads for the BMW M2
These EBC Brake Pads are specifically manufactured for Track Racing and Fast Street driving on the BMW M2!
The EBC Bluestuff Brake Pad provides your BMW M2 with a high friction racing pad that is capable of generating plenty more G force than most, if not all of the other racing pads on the BMW tuning market.
The real EBC Brakes difference is in the surface of the pad, as EBC's expert technicians heat sear and scorch the Bluestuff brake pads to provide your BMW M2 with a truly remarkable braking performance. The non metallic aramid base drastically reduces rotor wear while eliminating the firework display spark that is emitted under high speed braking under competitive racing conditions. Providing an enhanced brake pad life while notoriously reducing the brake disc wear, the pads boast a greatly reduced bed-in time on both street and track racing.
Please select whether you would like to purchase the Front or Rear EBC Brake Pads from the drop down list.
EBC Front Brake Pad Dimensions:
92mm Brake Pad Height
112mm Brake Pad Width
17mm Brake Pad Thickness
EBC Front Brake Pad Part Number: DP52130NDX
EBC Rear Brake Pad Dimensions:
88mm Brake Pad Height
74mm Brake Pad Width
15.5mm Brake Pad Thickness
EBC Rear Brake Pad Part Number: DP52133NDX
EBC Brakes are globally recognised for their large range of performance enhancing brake systems for a number of Make & Models around the globe. Each brake pad has been expertly hand crafted in house to guarantee you the signature high quality that EBC Brakes possess.
Learn more about the EBC Brake Pads in the YouTube clip below:
Require a Fitting?
VUDU Performance have a dedicated team of technicians along with our very own HUB dyno at our state of the art workshop facility in West Yorkshire. Please contact the team to discuss fitting the EBC Brakes Bluestuff Brake Pads on to your BMW M2.
Call or Email to discuss:
Tel: 01924 228042 | Email: sales@vuduperformance.com
Take a look
You might also like