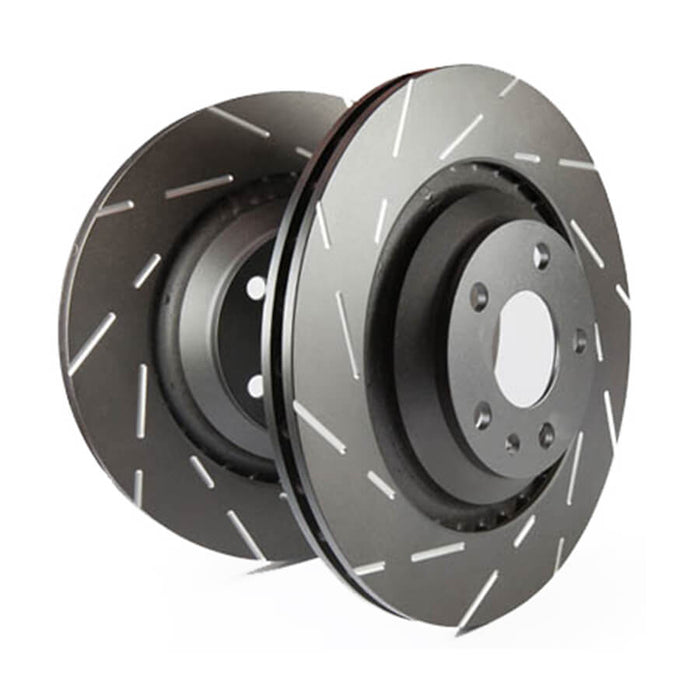 EBC USR Series Fine Slotted Front Brake Discs - Ford Fiesta ST Mk8
£189.68 inc. VAT £158.07 excl. VAT
EBC USR Series Fine Slotted Front Brake Discs for the Ford Fiesta ST Mk8
The EBC Fine Slotted Front Brake Discs are the latest addition to the USR Series of Brake Discs brought to us by braking performance specialists, EBC Brakes. The super quiet sport slotted brake discs boast a narrow profile slot pattern which assists with the cooling of the brakes under the most extreme of circumstances. Finished with the signature EBC Brakes thermic coating, the Front Brake Discs will look brand new for the thousands of miles to come.
Always fit new pads when replacing the brake discs.
The price shown is for the pair of EBC Front Brake Discs. It is strongly recommended that these discs are only purchased for Prestige Fast Street Cars.
EBC Brake Discs Key Features:
Slotted Brake Discs
Vented Brake Discs
4 Bolt Holes
Pair of Front Brake Discs Included
EBC Brake Discs Dimensions:
Diameter 278mm
Height 44mm
Thickness (new) 23mm
Thickness (min) 21mm
Learn more about EBC Brakes from their Corporate Video below:
EBC Brake Discs Part No: USR1963
Require a Fitting?
VUDU Performance are more than capable of fitting the EBC USR Series Fine Slotted Front Brake Discs on to your Mk8 Ford Fiesta ST should you require. Please contact a member of the team to book in for a suitable date.
Want to learn more?
Give our team of Mk8 Ford Fiesta ST tuning experts a call to discuss the EBC Front Brake Discs in further detail.
Call or Email to discuss:
T: 01924 228042 | E: sales@vuduperformance.com
Take a look
You might also like