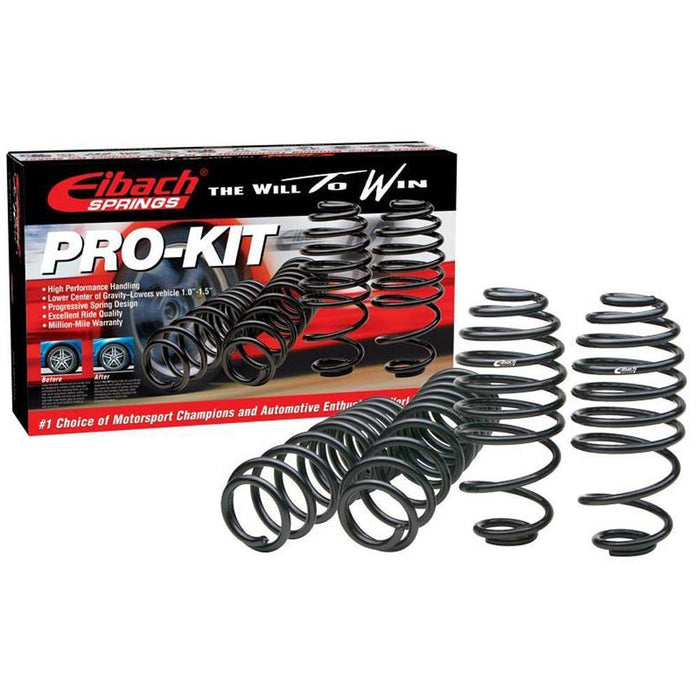 Eibach Pro Lowering Springs Kit - BMW M235i
Regular price £292.08 £262.87 inc. VAT £219.06 excl. VAT
Looking to improve the handling on your BMW 2 Series?
VUDU Performance now stock the Eibach pro kit lowering springs.
Front Lowering: 25mm
Rear Lowering: 20mm
Eibach Pro-Kit Lowering Spring Kit - Lowered and Uprated Springs
Eibach Pro-Kit Lowering Springs are the perfect answer for most popular road cars. It's Eibach's legendary spring system that dramatically improves both vehicle's performance and appearance. Pro-Kit lowers the car's centre of gravity, reducing squat during acceleration, body roll in corners and excessive nose dive under braking.
When combined with larger wheels and lower profile tyres, the Eibach Pro-Kit is the finishing touch to a winning recipe for performance. The Pro-Kit also reduces the excessive wheel arch clearance, making the car look as good as it performs.
Every Eibach Pro Kit is designed and tested by their suspension engineers to deliver an aggressive stance and looks. The Pro Kits are regarded as one of the few spring kits on the market that truly offer high performance handling without compromising ride quality or safety. By using their proprietary spring design (where necessary the Eibach Pro-Kit uses progressive rate springs - the exact composition of springs in kit will be matched to application), Pro-Kits provide the ultimate balance to take your performance road driving to a whole new level.
Ideal for use with original dampers in good condition, or upgraded sports dampers.
Unfortunately, this item doesn't qualify for a discount code, orders with discount codes will be cancelled.
Take a look
You might also like