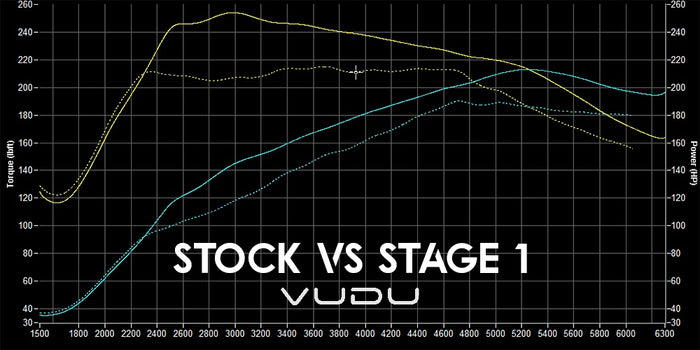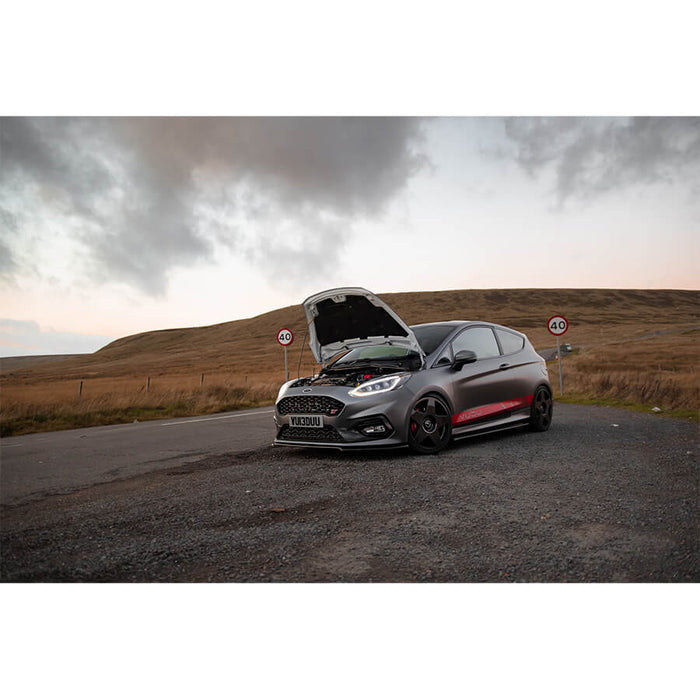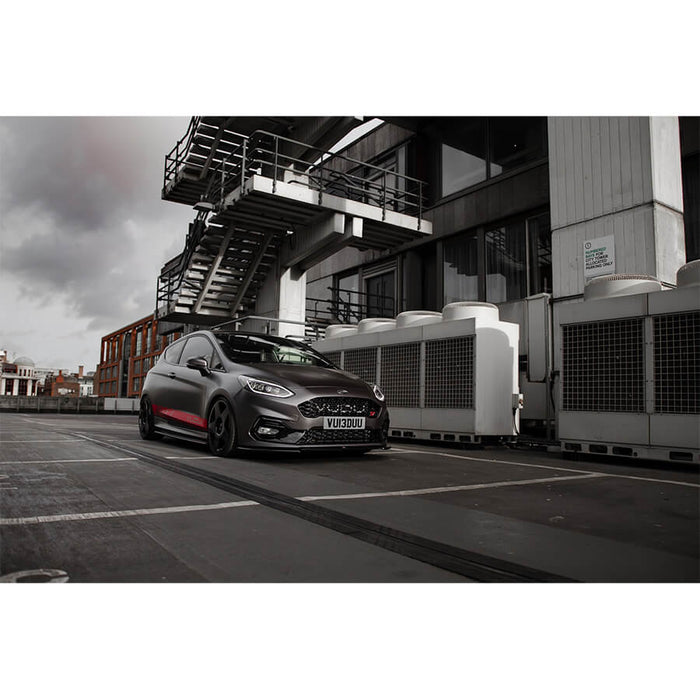 Fiesta ST Mk8 Remap Package - VUDU Performance
Regular price £325.00 £249.00 inc. VAT £207.50 excl. VAT
Fiesta ST Mk8 Remap Package From VUDU Performance
The impressive Fiesta ST MK8 with its three-cylinder turbocharged 1.5 EcoBoost engine just got spoiled with performance increases generated from VUDU Performance.
This already punchy super mini can now benefit from our Fiesta ST MK8 remap software enhancing the vehicle's power up to an impressive 270bhp. Offering a perfect balance between peak power and usability, the remap software provides a far more responsive turbo to offer great acceleration figures matched by some far more expensive hatchbacks.
All of our Fiesta ST MK8 remaps have been developed using our state-of-the-art 2000whp Dynapack hub dyno. We opted for this over a typical rolling road as a hub dyno ensures complete accuracy and consistency when working on research and development.
In this case, we invested in our own Fiesta ST MK8 demonstration car, allowing us to develop and thoroughly test each stage of the software on both the road and track to work on the overall driving experience. This is vital when tuning companies are producing market-leading software solutions.
Please note, the VUDU Performance remap software is designed to run with multiple fuel quality modes depending on the user's request at the point of tuning. The pre-set fuel quality modes are based on 95 ron and 98 ron fuel and will have minor adjustments to timing and boost level to compensate depending on which you choose.
Fiesta ST MK8 Stage 1 Remap
If you are looking into making your first steps in the tuning world, then this is the ideal starting point for you and your Mk8 Fiesta ST. This is because no additional supporting hardware is required to run the stage 1 software, making it a cost-effective modification with some big rewards in the rev range. Up to 245bhp can be expected from the stage 1 software flash alone.
Although not a necessity, if you are looking to get the very most out of your stage 1 build, we would advise fitting one of our VUDU Performance Induction Kits. By selecting the Add Stage 1 Supporting Hardware option from the drop-down menu, you will be adding this performance induction kit to your order.
VUDU Performance is a key figure in the world of performance Ford tuning. You will find a lot of VUDU Performance hardware in our tuning packages across the Ford range due to the key power gains we have seen from their inclusion.
Stage 1 Fiesta ST Mk8 Figures:
| | | | |
| --- | --- | --- | --- |
| | Stock Fiesta ST | Stage 1 Remap | Stage 1 Package |
| Power Figures | 200 BHP | 240 BHP | 245 BHP |
| Torque Figures | 214 ft/lb | 273 ft/lb | 273 ft/lb |
Dyno graph above shows Wheel Horse Power figures.
Fiesta ST Mk8 Stage 2 Remap
If the performance figures in the stage 1 table above don't quite meet what you are looking for from your project Mk8 Fiesta ST. Why not take a look at upgrading to a full VUDU Performance Stage 2 Tuning Package?
The stage 2 VUDU Performance software on these little pocket rockets produces some huge increases in both the power and torque figures. As well as this, some key software features are included to enhance the driving experience from the Fiesta ST MK8's little 1.5 EcoBoost engine further. We believe VUDU Performance has created the optimum engine calibration enhancing the vehicle in every way to how it should have left the Ford production line.
With true power gains of up to 265bhp without adjustment of the fuel pressure deviation table, this is a powerful remap with key safety features. But due to the vast increases in the power and torque, a full tuning package with the key supporting hardware is required.
By selecting the Add Stage 2 Supporting Hardware option, you will be adding the VUDU Performance Induction Kit, VUDU Performance Intercooler, VUDU Performance Resonated GPF Delete, and a Scorpion Exhausts Downpipe to your order.
Decat vs Sports Cat Downpipe Option:
You will see from the drop-down menu options that you have the option to select a decat or a sports cat downpipe. The decat option will provide your stage 2 build with the ultimate flow rate, however, this route will not pass a UK MOT emissions test. The sports cat option on the other hand still provides a respectable flow rate but will pass the same test without any problems.
If you do decide to go down the decat downpipe route, then you will be eligible to purchase the VUDU Performance Pops & Bangs Exhaust Overrun Addon, this can be purchased separately through our website.
Other brands of stage 2 performance hardware are available and will be compatible with the VUDU Performance stage 2 remap software should they already be fitted to the vehicle when you book in for the software flash. But please note you may not see the performance figures quoted in this package with different brands of hardware installed.
Stage 2 Fiesta ST Mk8 Figures:
| | | | |
| --- | --- | --- | --- |
| | Stock Fiesta ST | Stage 1 Remap | Stage 2 Package |
| Power Figures | 200 BHP | 240 BHP | 265 BHP |
| Torque Figures | 214 ft/lb | 273 ft/lb | 288 ft/lb |
Dyno graph above shows Wheel Horse Power figures.
Dyno Tune vs Home Tuning
When it comes to making your purchase, you have the option of purchasing for home tuning or dyno tuning.
When you select the dyno tune, our bookings team will get you booked into our workshop facility, located in West Yorkshire, for our own technicians to flash the software onto your Fiesta via our hub dyno. The dyno-tuned price shown includes before and after dyno runs so that our technicians can show you exactly what power the car has made with the software installed.
The home tune option allows you to flash the software from the comfort of your own home. You can have up to five of the VUDU Performance remaps on the device and flash between the options remotely. The process of getting started with the tuning tool is very straightforward, simply plug your tuning tool into the obd port and take a stock file read from the car. You would then email us a copy of this file before we would send one back with your new software readily available.
The map-only option is a flash-and-dash alternative where we flash the software from our workshop facility without using the dyno.
Fiesta ST Mk8 Remap Software Features:
Need To Learn More?
For more information regarding any of our Ford Fiesta ST Mk8 tuning packages, make sure to please contact us by phone or email. Our dedicated team of Mk8 Fiesta ST tuning experts will have no problem answering any of your questions and guiding you in the right direction of where you want to take your project.
If you do purchase through our website, please get in touch to find a suitable booking date.
Take a look
You might also like