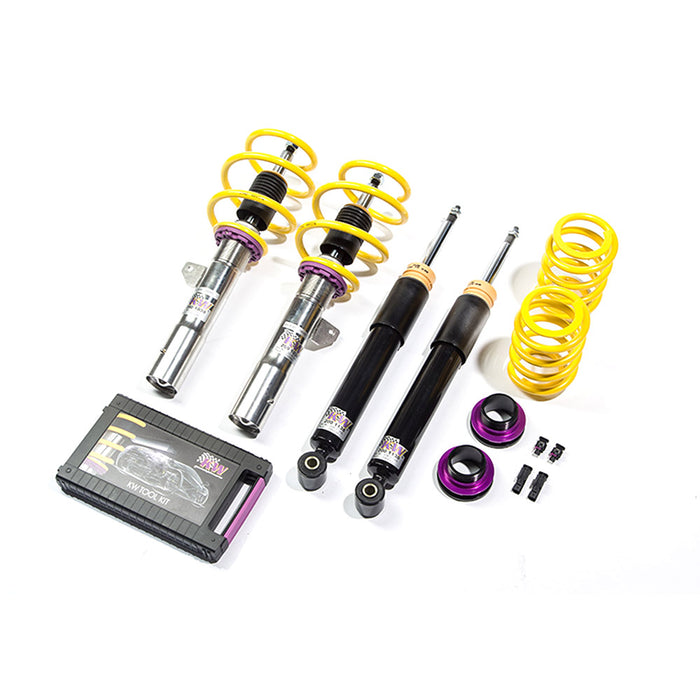 KW Suspension Variant 1 Coilovers - VW Polo 6R
£1,133.00 inc. VAT £944.17 excl. VAT
KW Suspension Variant 1 Coilovers For The VW Polo 6R
Add the superior KW Suspension quality to your VW Polo 6R with the Variant 1 Coilovers!

Engineered specifically to fit the VW Polo 6R model, the KW Suspension Coilovers boast the finest of quality stainless steel materials to offer a high resistance against corrosion, the KW Variant 1 Coilovers provide a height adjustable kit capable of offering a fine balance between performance and comfort.
Lowering Front: 20-50mm
Lowering Rear: 40-65mm
The success of KW Suspensions has seen them progress as one of the market leaders for innovative coilovers, sport suspension solutions and motorsport performance applications.

KW Coilovers Key Features:

Height adjustable spring sets

Tempered high strength springs
Bump stops with integrated dust boots
Hardened chrome piston rods
Noise damping and corrosion resistant spring cap
Front & rear axle weights can be found on the VIN plate which is normally found under the bonnet on one of the inner wings or behind the passenger door on the b-pillar.
Require A Fitting?
Please contact a member of the team at VUDU Performance for further details on fitting the KW Suspension Variant 1 Coilovers to your VW Polo 6R model at our state of the art workshop facility in West Yorkshire. Our team of workshop technicians have plenty of experience working on various Polo models so will have no problem with the fitment.
Call or Email to discuss:
Tel: 01924 228042 | Email: sales@vuduperformance.com
Take a look
You might also like