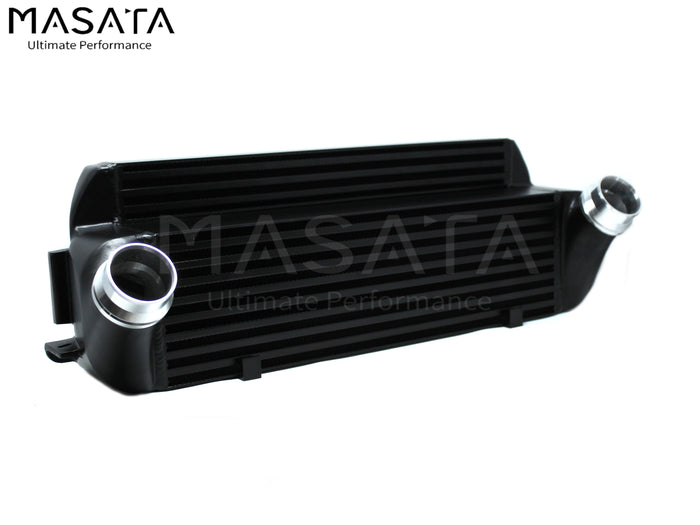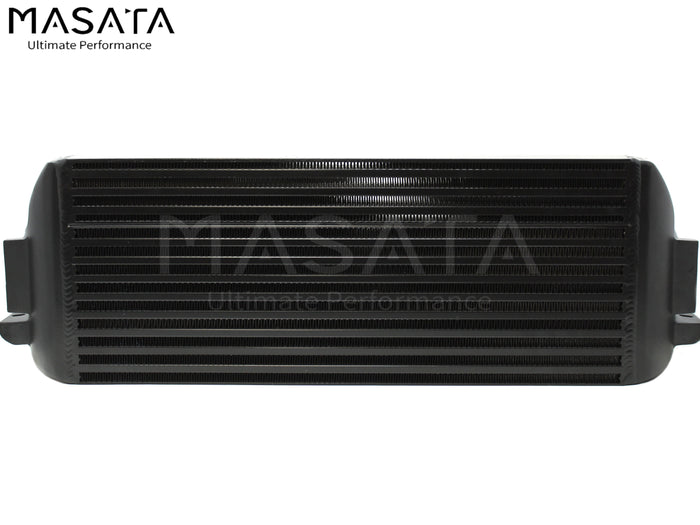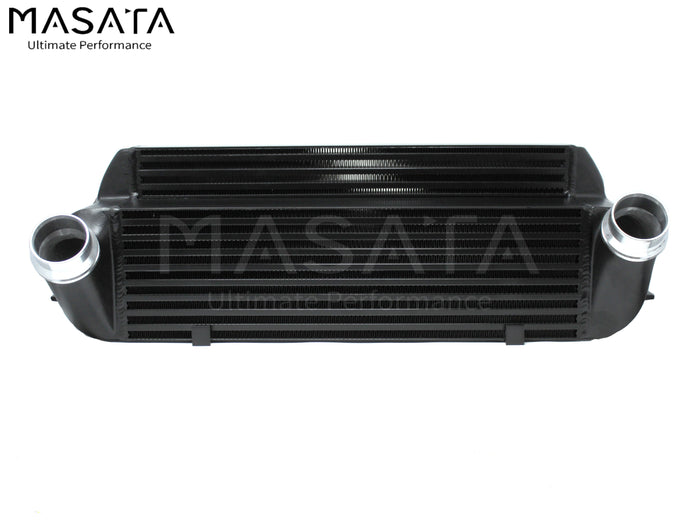 Masata BMW N20 N55 Stepped HD Performance Intercooler (M2, M135i, M235i, 335i & 435i)
£399.00 inc. VAT £332.50 excl. VAT
Description
The Masata N20 N55 High Density performance intercooler delivers better cooling, more power to the wheels, and allows you to hold that power longer during extended runs. With a larger core and more surface area than stock your intercooler pressure drop is reduced and cooling dramatically improved. Resulting in peak power gains of around 10whp and during longer pulls and back to back runs as much as 20-30whp over the factory intercooler. Masata intercoolers are painted black for a stealthy appearance.

Masata replacement intercoolers are a direct replacement for your factory intercooler and fully reversible. All required hardware is included.

Dimensions: 21" x 6" first step x 2.5" 2nd step x 5"
Compatibility Check
To ensure the part(s) you have ordered fits your vehicle, we run a compatibility check prior to dispatch. We can do this either using your registration number(UK) or the last 7 digits of your VIN. Simply enter your car details prior to checkout.
Compatibility
BMW M Series
• 2016+ N55 BMW F87 M2
BMW 1 Series
BMW M135i F20 / F21 (2012+)
BMW 114i F20 / F21 75KW/102PS (2012-2015)
BMW 116i F20 / F21 100KW/136PS (2011-2015)
BMW 116i F20 / F21 80KW/109PS (2015+)
BMW 118i F20 / F21 125KW/170PS (2011-2015)
BMW 118i F20 / F21 100KW/136PS (2015+)
BMW 120i F20 / F21 130KW/177PS (
2014-06/2016
)
BMW 125i F20 / F21 160KW/218PS (
2012-06/2016
)
BMW M135i(x) F20 / F21 235-240KW/320-326PS (2011-2016)
BMW 114d F20 / F21 70KW/95PS (2012+)
BMW 116d F20 / F21 85KW/116PS (2011+)
BMW 118d(x) F20 / F21 105-110KW/143-150PS (2011+)
BMW 120d(x) F20 / F21 135-140KW/184-190PS (2011+)
BMW 125d F20 / F21 160-165KW/218-224PS (2012+)


BMW 2 Series
BMW N55 N20 BMW F22/F23 228i, M235i (2014+)
BMW 218i F22 / F23 100KW/136PS (2015+)


BMW 220i F22 / F23 135KW/184PS (2014-06/2016)
BMW 228i(x) F22 / F23 180KW/245PS (2014-06/2016)


BMW M235i(x) F22/F23 240KW/326PS (2014-2016)




BMW M2 F87 272KW/370PS (2016+)




BMW 218d F22 / F23 103-110KW/143-150PS (2014+)




BMW 220d(x) F22 / F23 135KW/184PS (2014+)




BMW 225d F22 / F23 165KW/224PS (2014+)



BMW 3 Series
BMW N55 N20 N26 BMW F30 F31 320i, 328i, 335i/xi (2012+)
BMW 316i F30 / F31 / F34 100KW/136PS (2011-2015)




BMW 318i F30 / F31 / F34 100KW/136PS (2015+)




BMW 320i(x) F30 / F31 / F34 135KW/184PS (2011-2015)




BMW 328i(x) F30 / F31 / F34 180KW/245PS (2011-2015)




BMW 335i(x) F30 / F31 / F34 235KW/320PS (2011-2015)




BMW 316d F30 / F31 / F34 85KW/116PS (2012+)




BMW 318d(x) F30 / F31 / F34 105KW/143PS (2012+)




BMW 320d(x) F30 / F31 / F34 135KW/184PS (2011+)




BMW 325d F30 / F31 / F34 160KW/218PS (2013+)




BMW 330d(x) F30 / F31 / F34 190KW/258PS (2012+)




BMW 335d(x) F30 / F31 / F34 230KW/313PS (2013+)



BMW 4 Series
BMW F32 N55 N20 N26 Coupe 428i, 435i / 435xi
(2014+)
BMW 420i(x) F32 / F33 / F36 135KW/184PS (2013-2015)
BMW 428i(x) F32 / F33 / F36 180KW/245PS (2013-2016)
BMW 435i(x) F32 / F33 / F36 225KW/306PS (2013-2016)
BMW 418d F32 / F33 / F36 105-110KW/1143-150PS (2014+)
BMW 420d(x) F32 / F33 / F36 135-140KW/184-190PS (2013+)
BMW 425d F32 / F33 / F36 160-165KW/218-224PS (2014+)
BMW 430d(x) F32 / F33 / F36 190KW/258PS (2013+)
BMW 435d(x) F32 / F33 / F36 230KW/313PS (2013+)
BMW X Series
• 2013+ N55 F25 X3 35i
Warranty
Lifetime Masata Warranty
Manufactured by
Masata
Part Number
MST0026
Take a look
You might also like