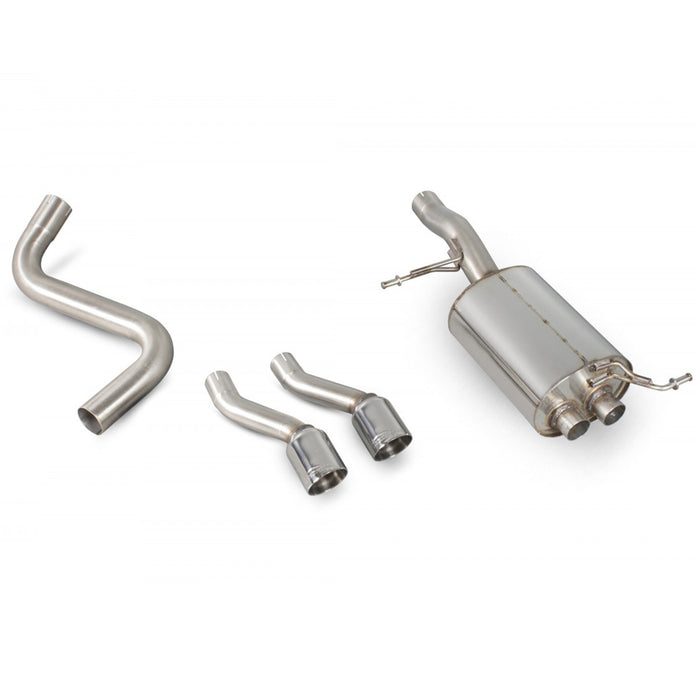 Scorpion Exhausts Rear Silencer - Ford Fiesta 1.0 EcoBoost
Regular price £474.78 £427.31 inc. VAT £356.09 excl. VAT
Scorpion Exhausts Rear Silencer for the Ford Fiesta 1.0 EcoBoost
The Scorpion Exhausts Rear Silencer reduces the noise of the gasflow coming through the exhaust system. The reduced noise is created from the silencer generating a soundwave that is the exact opposite of the noise coming through the exhaust system, which in turn cancels out the loud exhaust tone.
Scorpion Exhausts have become very popular among tuning enthusiasts and racers. A simple feel of a Scorpion Exhaust will allow you to appreciate the premium design and constriction qualities that are put into their exhaust systems. Scorpion take great pride in their work with a huge passion to continuously improve on their previous systems.
Listen to the tone of a Scorpion Exhaust System on the Ford Fiesta 1.0 EcoBoost:
The Rear Silencer is available with the Daytona tailpipe.
Technical Data:

| | |
| --- | --- |
| Fitment Years | 2013 - 2017 |
| Fits To | OEM / Scorpion |
| Pipe Diameter | 63.5mm/2.5" |
| EC Approved | No |

Scorpion Exhausts Rear Silencer fits the Ford Mk7 Fiesta 1.0T EcoBoost (Standard Rear Valance Fit & ST Rear Valance 2013 - 2017)
Require a fitting?
Please contact the VUDU Performance team at our workshop in Normanton for further details on fitting the Scorpion Exhausts Rear Silencer on the Ford Fiesta 1.0 EcoBoost.
Call or Email to discuss:
T: 01924 228042 | E: sales@vuduperformance.com
Take a look
You might also like