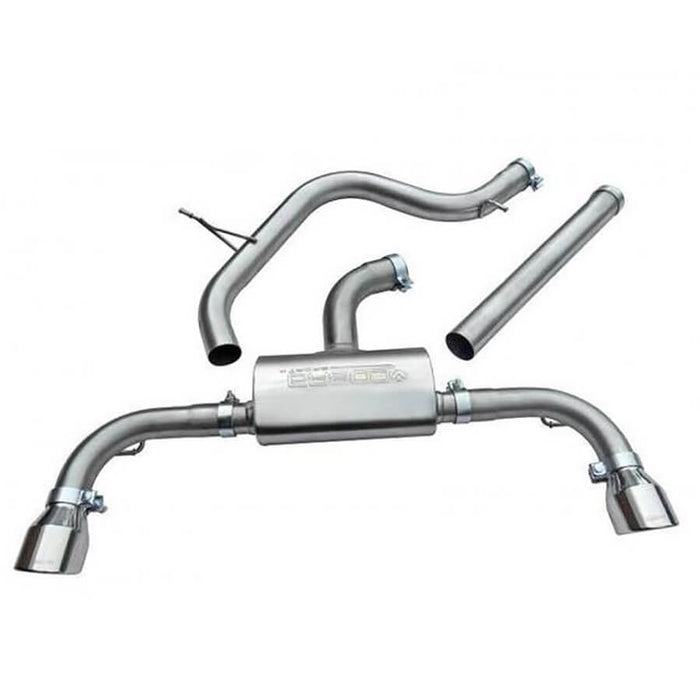 VW Golf GTI MK7 (12-17) Cat-Back Exhaust - Cobra Sport
Regular price £808.02 £727.22 inc. VAT £606.02 excl. VAT
Cobra Sport VW Golf GTI Cat-Back Exhaust System (12-17).
**USING THE DROP-DOWN MENU ABOVE, SELECT WHICH CENTRE SECTION AND TIPS YOU WOULD LIKE.**
The Cobra Sport Performance exhaust for the Golf GTI MK7 exhaust is the perfect upgrade for any owner looking to enhance the sound, looks and quality of their Volkswagen Golf MK7. The Cobra Exhaust is made from 3" stainless steel pipework and fits from the Catalytic convertor and replaces the centre and rear sections of the exhaust.
Due to its increase in pipe diameter, this exhaust allows for an increase in airflow, which results in the engine being able to perform to its potential as it is not having to work as hard to push the gases through the system. The increase in airflow paired with Cobra's craftsmanship creates a louder, more sporty sounding exhaust tone.
All of Cobra Sports Exhausts are made from Certified 304 Grade Stainless Steel and TIG Welded for ultimate quality. Cobra also offers a lifetime warranty on all their exhausts to provide you with the utmost peace of mind.
Resonated vs Non-Resonated.
When shopping for exhausts it is important to know what you are purchasing. The centre silencer on the exhaust usually has a Resonator which is basically an echo chamber used to remove certain frequencies from the exhaust tone.
A Non-Resonated exhaust is what it says, a centre section with the resonator removed. This results in the exhaust tone being louder and unfiltered.
An upgraded exhaust with a resonator provides a louder exhaust tone than the stock system but quieter than the Non-res exhaust. A resonated system is ideal for those who want their exhaust to sound sportier without it being too loud.
Key Features:
Constructed from Grade 304 Stainless Steel and TIG welded
Increase in airflow through the system
Improved power output
Enhanced exhaust sounds
Lifetime warranty
Transform your VW Golf GTI with this resonated Cat-Back Exhaust to create the ultimate driving experience. The Cobra Sport Performance exhausts enhance the sound with the resonated Cat-Back system.
Require Fitting?
If you would like us to fit the Cobra Cat-Back Exhaust for the 2016 Golf GTI exhaust, then use the drop-down menu and a member of the team will get in touch to arrange it for you. Our expert technicians will have no problem fitting it and will allow you to have peace of mind.
Contact us?
You can contact a member of our team using our Contact page.
Take a look
You might also like