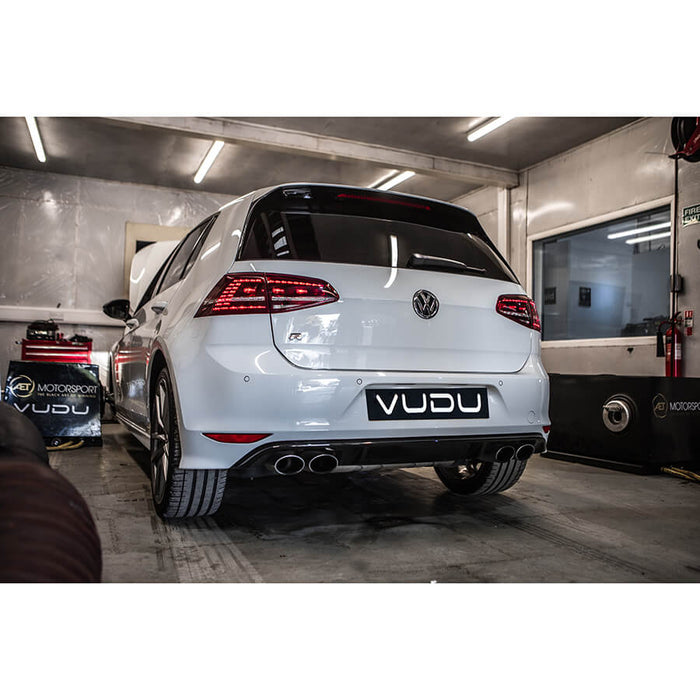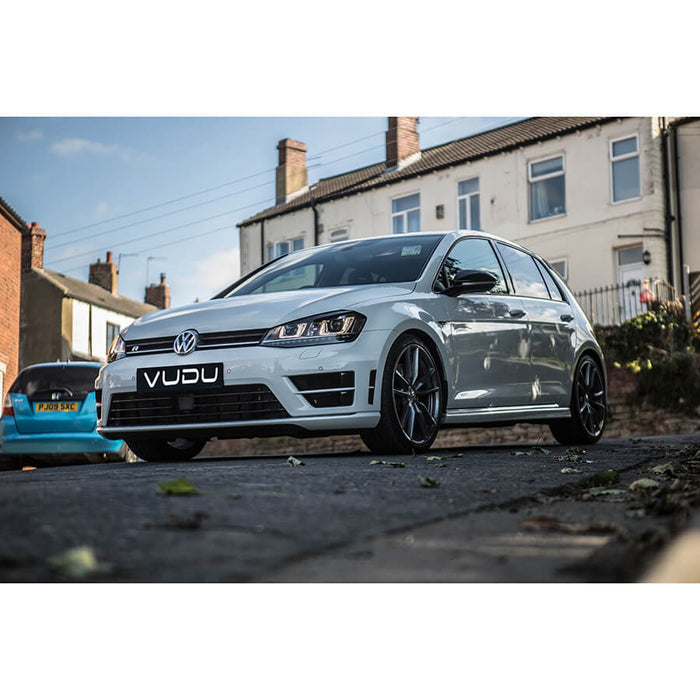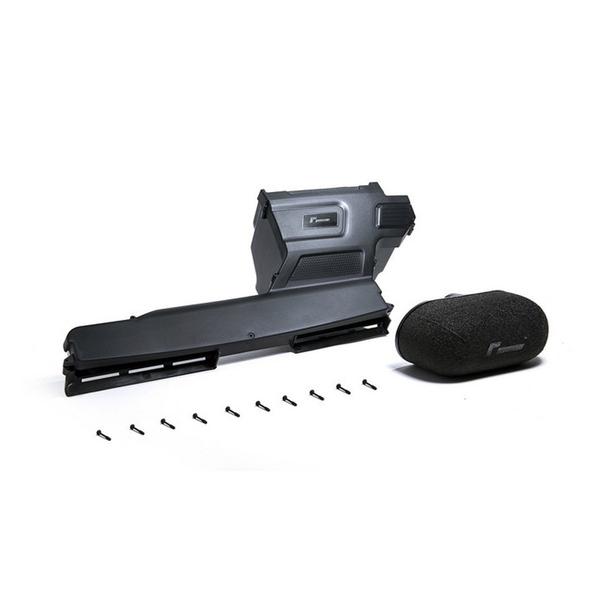 Golf R Stage 1 Remap Package - VUDU Performance
Regular price £399.00 £299.00 inc. VAT £249.17 excl. VAT
Golf R Stage 1 Remap Package from VUDU Performance
Take your VW Golf R Mk7 or Mk7.5 to a performance level you didn't know was quite possible with the VUDU Performance Stage 1 Remap Package!
The VUDU Performance Golf R remap packages are leading the way in the VW and Audi Tuning Scene with the impressive gains in the power and torque figures that they boast. For this particular Golf R Stage 1 remap package, up to an impressive 390bhp can be generated with the recommended supporting hardware installed.
While the remap software is designed to run on a completely stock Volkswagen Golf R model. We do recommend installing some supporting hardware to get the utmost amount of performance gains from the software flash.
Selecting Add Supporting Hardware from the drop-down menu, you will be adding certain breathing modifications to your order that will benefit your stage 1 package. This includes the Racingline R600 Intake Kit, Forge Motorsport high-flow Inlet Hose, and Forge Muffler Delete. You can read more about the supporting hardware included below.
The supporting hardware included in this package has been hand-selected by our team of Golf R tuning experts. We found that these products combined form the best possible breathing modifications to get the maximum performance results from the stage 1 build. Whilst other brands of supporting hardware are available, they may not necessarily make the figures we quote in the remap package.
For automatic Golf R owners, we also strongly recommend selecting the DSG Remap option from the drop-down menu which will allow us to flash the TCU alongside the ECU. This additional software is designed to optimize the performance of the DSG, allowing the gearbox to function far more efficiently while you shift up through the gears.
As the Mk7 Golf R is a member of the MQB platform, this software will be perfectly fine to run on other 2.0 TSI models such as the Audi S3 and Seat Leon Cupra R.
Stage 1 Mk7 Golf R Remap Figures:
| | | | |
| --- | --- | --- | --- |
| | Stock VW Golf R | Stage 1 Remap | Stage 1 Package |
| Power Figures | 300 BHP | 380 BHP | 390 BHP |
| Torque Figures | 280 ft/lb | 360 ft/lb | 360 ft/lb |
Dyno graph above shows Wheel Horse Power figures.
Please note all figures shown are from a Golf Mk7 R model running 99 octane fuel such as Shell V Power or Tesco Momentum. Whilst we can calibrate our software to other fuel types, we do recommend running 99 fuel to get the optimum performance results.
If these figures aren't enough and you want further power enhancements, we advise you to take a look at either our stage 2 or stage 3 remap packages. A stage 2 remap package will see your Golf R reach horsepower levels of up to 420bhp whereas a stage 3 remap package will see your Golf R reach an astounding 540bhp.
More supporting hardware is required to run the high power figures of the upper-level packages, so you will have to look at installing an uprated intercooler or clutch kit to name a few individual pieces of hardware. All the information regarding this can be found on their individual remap pages linked above.
Why Choose VUDU Performance?
Over recent years, VUDU Performance has been working with some of the worlds leading software and hardware manufacturers to offer some of the very finest automotive upgrades to the EA888 engine MQB platform tuning market.
This VW Golf R Stage 1 Remap Software is another fine example of the hard work and technical expertise that goes into each individual remap calibration. Each individual piece of software is developed on our very own demo car with performance and safety characteristics in mind. This offers you the peace of mind that the software you are purchasing is not only offering peak performance gains but also safe results that you can trust.
No individual piece of VUDU Performance software is released onto the Golf Mk7 tuning market without thorough testing and development. The remaps are built and customized on our very own hub dyno and go through extensive data logging before we unleash the finished product. When selecting a dyno for a workshop facility, we found the hub dyno produced more accurate and reliable results compared to a rolling road, which made this decision rather straightforward.
Dyno Tuning vs Home Tuning
When you come to make your purchase of the stage 1 tuning software, you have the option to purchase for home tuning or dyno tuning.
By selecting the dyno-tune option, our bookings team will be in touch to get you booked into our state-of-the-art workshop facility, located in Normanton, West Yorkshire. From here, our expert team of technicians will perform the remap flash via our hub dyno.
The price you pay for this option includes before and after dyno runs, this will provide you with accurate and reliable data of the exact figures that your car has made from stock. You will then be welcome to take a paper copy of your logs home with you.
The home tuning tool option on the other hand allows you to flash the remap software from the comfort of your own home. The tool has been designed so that anyone, no matter their knowledge of the tuning world, can remap their Golf R quickly and safely through the use of the tuning tool.
This is a great option for any tuning enthusiast, who lives outside of the UK or a long drive away from our workshop facility. You will receive a step-by-step tuning manual with this purchase to guide you along your way.
Please note you are unable to map the DSG with the tuning tool. This option is only available when you select the dyno tune option from the drop-down menu.
The map-only option is a flash-and-dash alternative where we flash the software from our workshop facility without using the dyno.
Golf R Stage 1 Supporting Hardware:
As mentioned earlier, no additional hardware is required to run this Stage 1 Remap Software. However, you will see some nice performance benefits from selecting the supporting hardware option from the drop-down menu. By selecting this, you will be adding the following pieces of hardware to your order:
Racingline R600 Intake Kit
This R600 intake kit is one of our favourite modifications for the Mk7 Golf R. Not only due to the performance gains it generates but also the superior design qualities that Racingline has put in place on this particular system. This is the perfect intake kit choice for any Golf R tuning enthusiast looking for a stage 1 build, all the way through to a stage 3 build. For this reason, you will find this intake kit involved in all our MQB platform tuning packages.
Forge Motorsport Inlet Hose
This Forge Motorsport design provides a 3" wide inlet hose that allows the Golf R to breathe freely. Improving the airflow passing through the vehicle to create a higher level of cooling efficiency. Like with the R600 intake, this is our go-to inlet hose in all our MQB tuning packages.
Forge Motorsport Muffler Delete
The Forge Motorsport Muffler Delete eliminates any restrictions and delays that have become a standard through the stock component. Enhancing the sound of the turbo spool and making improvements to the response time of the turbo, this supporting hardware component provides a general refinement to the overall performance of the turbo.
Golf R Remap Stage 1 Software Features:
Need To Learn More?
For more information about our Golf R Stage 1 Remap Package, make sure to please contact us via phone or email. Our team of Golf tuning experts will be able to guide you in the correct direction and answer any questions that you have for us.
If you have selected the fitting option, please get in touch to find a suitable booking date.