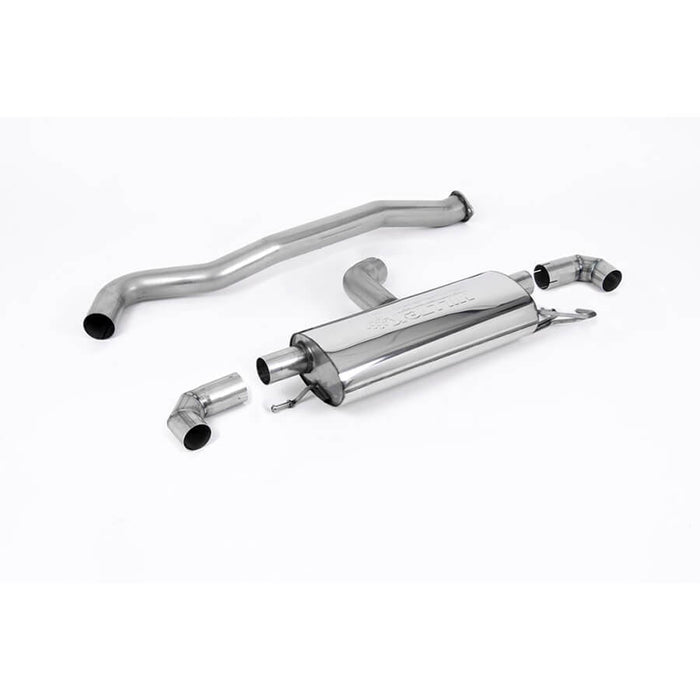 Toyota Yaris GR GPF Back System - Milltek Sport
Regular price £1,256.70 £1,131.04 inc. VAT £942.53 excl. VAT
Milltek Sport GPF Back Exhaust System for the Toyota Yaris GR.
**Make sure to select if you would like either the Resonated or Non-resonated exhaust system, as well as the tailpipes you would like in the drop-down menu above to ensure you receive the correct product.**
Unsatisfied by the exhaust tone on your Toyota Yaris GR, or just wanting a sportier-sounding car? Introducing the new Milltek Sport GPF Back Exhaust System for the Yaris GR sorts all that and more. The stock exhaust system found in the Toyota Yaris models is restrictive and has a toned-down exhaust tone. The heavy exhaust system has a restricted pipework that saps power and removing some of that fierce exhaust noise.
The GPF Back exhaust has a 3" diameter pipe that allows for increased airflow from the engine. This increase in airflow allows more power to be produced by the engine as the exhaust allows more gasses to pass through. A side product of the increased airflow is a louder, sportier sounding exhaust, transforming your standard Yaris GR into an everyday rally road car!
This exhaust system is available either resonated or non-resonated. The non-resonated system is a straight pipe that provides the loudest, most raw sounding exhaust noise possible for those looking to turn heads as they drive past. The resonated version has an additional middle silencer that tones down the sound compared to the non-resonated version, which provides a sporty sounding exhaust without being over the top.
There is a choice of five different tailpipe options that you can choose from. These options allow you to design your exhaust to match your style. The different tailpipes range in price, so select which option you would like from the drop-down above.
Key Features:
- Increased airflow.
- Improved performance.
- Louder, sportier, sounding exhaust tone.
- Light-weight, aerospace grade type 304 non-magnetic stainless steel.
PART NO: SSXTY127
Require Fitting?
If you would like us to fit the Milltek Sport GPF Back System for the Toyota Yaris GR, then get in touch with a member of the team to arrange it for you. Our expert technicians will have no problem fitting it and will allow you to have peace of mind.
Contact us?
You can contact a member of our team using our Contact page.
Take a look
You might also like