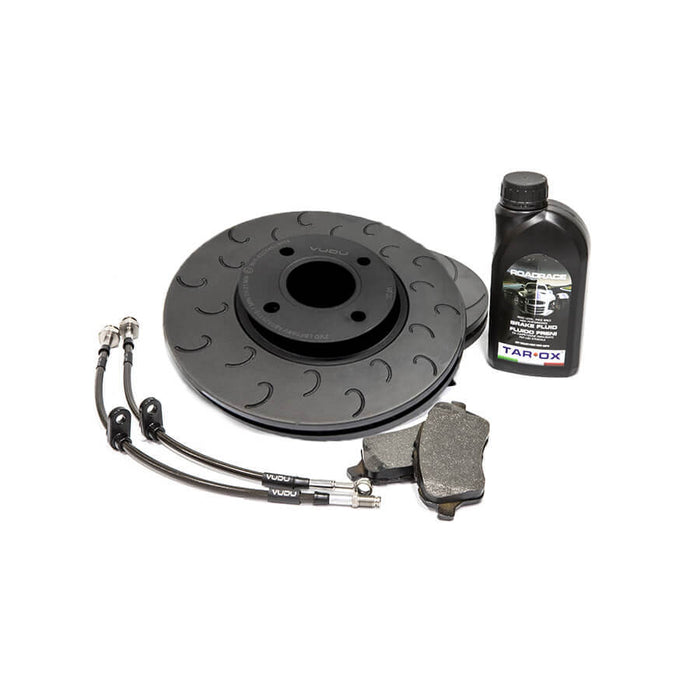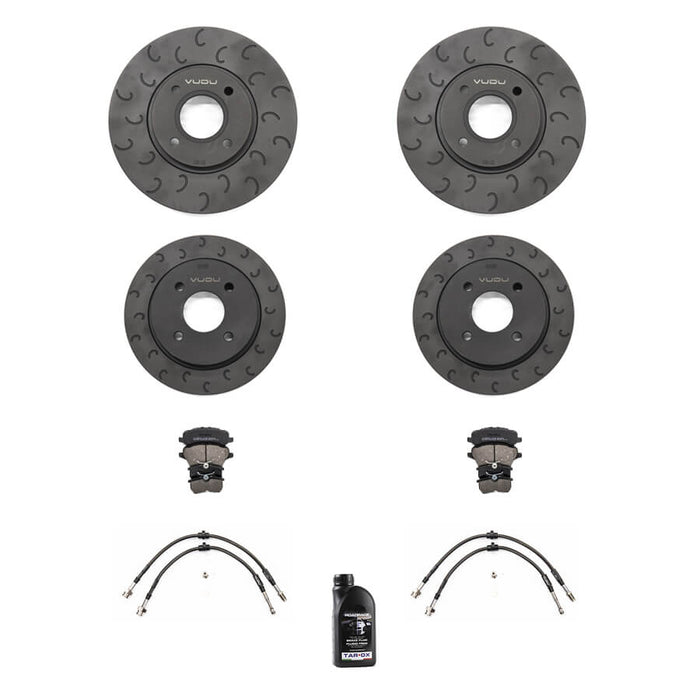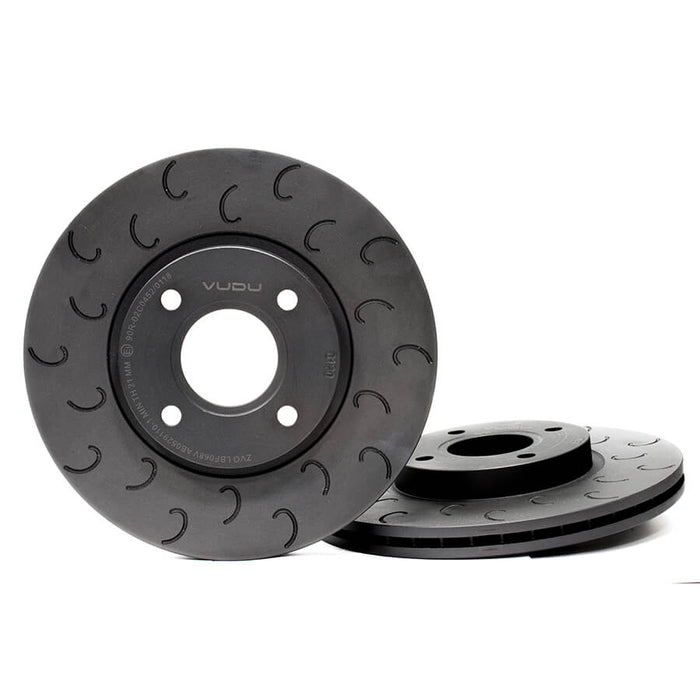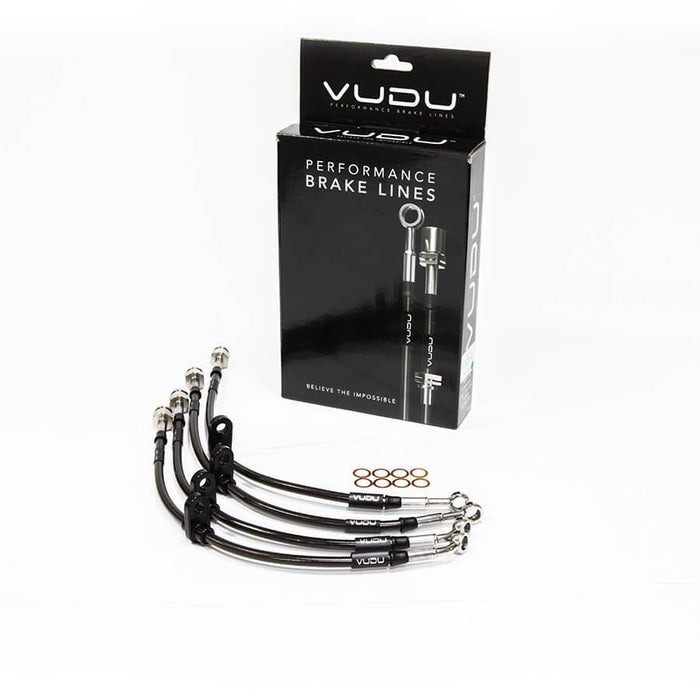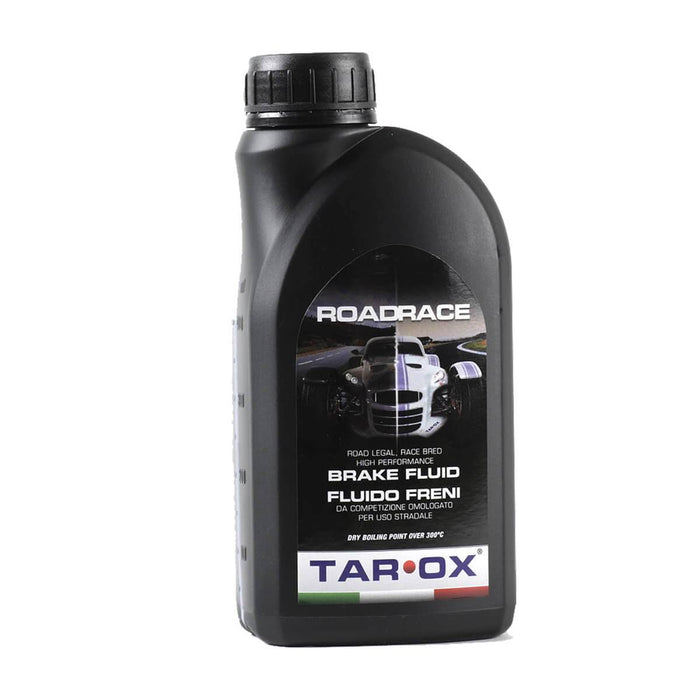 Ford Fiesta ST180 Upgraded Performance Front Brake Kit - VUDU
Regular price £335.00 £284.75 inc. VAT £237.29 excl. VAT
VUDU Upgraded Performance Front Brake Kit for the Ford Fiesta ST180.
**Upgrade your Brake kit with added options. Make sure to correctly select the options you would like to ensure you recieve the correct parts.**
The VUDU MK7 Fiesta ST Brake upgrade kit is the ultimate braking upgrade package currently available for the MK7 Ford Fiesta ST (2013-2017).
The VUDU Performance Brake upgrade package covers 4 of your most important braking Components to ensure that your car can perform to its potential across the board to compliment and support any additional power upgrades you might have added to your Ford Fiesta Mk7 ST (2013-2017)
The Kit includes:
- VUDU Grooved Front Brake Discs.
- VUDU Performance Brake Lines Full Set
- VUDU Upgraded Front Brake Pads
- Branded Brake Fluid (Tarox / Millers depending on stock levels.)
Additional Extras:
- Add VUDU Rear Brake Discs
- Add VUDU Rear Brake Pads
VUDU Brake Discs.
The VUDU Front Discs not only come grooved to help keep the braking system at a cooler temperature but also come finished in an eye-catching Cerakote which offers a much more stealth look to the car while being finished off with the VUDU branding.
- Positive Feeback In Braking Performance.
- Anti-Corrosion Coating for Maximum Corrosion Resistance.
- Designed to Run up to 900°c.
- Provide Increased Durability and Longevity of the Product.
- Manufactured from G3500 Compound.
- Cerakote Black Finish.
The Above are supported by not only Hel brake lines but an option of either VUDU, Tarox or Mintex brake pads .
VUDU Performance Upgraded Brake Pads.
Included in the standard set the new VUDU Upgraded Brake Pads work in perfect harmony with the VUDU Brake Discs to provide excellent braking efficiency. Their innovative non-aggressive friction technology provides a much more efficient responsive feel.
- None Aggressive Friction Technology.
- Efficient responsive braking from cold and hot temperatures.
- Chamfered edge for more responsive and smoother braking.
- Excellent wear, fade, and vibration-free characteristics.
Ford Fiesta ST VUDU brake lines are a direct replacement part replacing the factory rubber hoses.
The VUDU braided lines are designed to give
Smoother & Stronger Braking
Eliminate That Spongy Pedal Feeling
Sharper and More Responsive Braking
Race Proven Technology
Require Fitting?
If you would like us to fit the VUDU Upgraded Performance Brake Kit on your Fiesta ST180, then get in touch with a member of the team to arrange it for you. Our expert technicians will have no problem fitting it and will allow you to have peace of mind.
Contact us?
You can contact a member of our team using our Contact page.
Take a look
You might also like