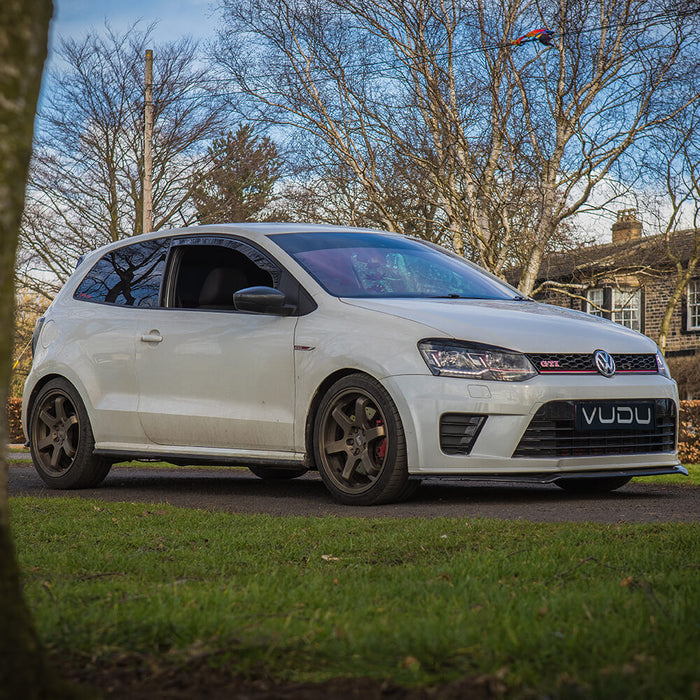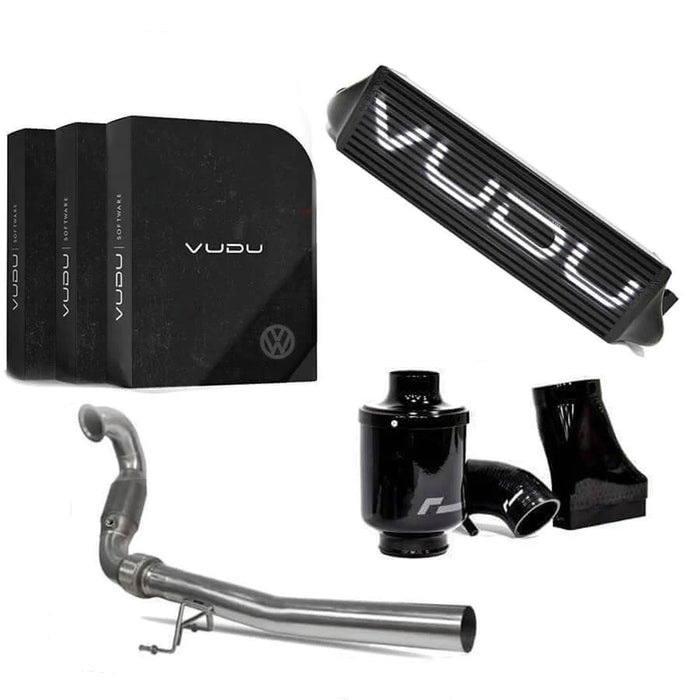 Polo GTI Stage 2 Remap Package - VUDU Performance
Regular price £375.00 £299.00 inc. VAT £249.17 excl. VAT
Polo GTI Stage 2 Remap Package from VUDU Performance
The Polo GTI Stage 2 VUDU Performance Remap takes your Polo to new heights. Increasing the power, torque, and fuel economy of this delightful little pocket rocket.
The VUDU Stage 2 Remap Package has been specifically designed for the VW Polo GTI 1.8T engine. Offering you a superb opportunity to make the jump from a standard model to a fully modified stage 2 phenomenon. Up to an impressive 270 BHP can be achieved with this complete package installed on the vehicle.
The VUDU Performance VW Remap Software is in high demand. Following our success with the Fiesta ST tuning market, it was natural for us to transgress and develop quality remap software for the Polo GTI. This move has proved to be a popular one with the huge power gains becoming a mouthwatering selling point among tuning enthusiasts around the country.
Like with all the VUDU Performance that we offer, the Polo GTI Stage 2 ECU remap has been developed and fine-tuned on our very own Hub Dyno. This is to give you the peace of mind that the quality you are purchasing is not only offering peak performance gains. But also safe and reliable results that we have tested thoroughly and over a long period of time.
We are proud to showcase yet another high performance software development to the VAG tuning market. The gains achieved through this software flash proves to be yet another fine example of the hard work and technical expertise that goes into each individual remap calibration.
Polo GTI Stage 2 BHP Figures:
| | | | |
| --- | --- | --- | --- |
| | Stock Figures | Stage 1 Remap | Stage 2 Package |
| Power Figures | 203 BHP | 255 BHP | 280 BHP |
| Torque Figures | 236 ft/lb | 293 ft/lb | 320 ft/lb |
Dyno graph above shows Wheel Horse Power figures.
Please note all figures shown are from Polo GTI models running 99 octane fuel. It's vitally important to use quality fuel such as Tesco 99 or Shell V-Power when running the VUDU Performance Software. This is to allow you to get the best and safest performance out of the vehicle.
If these figures aren't enough and you're looking at further performance gains, make sure you take a look at our Polo GTI Stage 3 Tuning Package.
Dyno Tune vs Tuning Tool Option:
When purchasing your Polo GTI ECU Software through our website, you have the option to complete your purchase with the tuning tool or with the dyno-tune option.
When selecting the dyno tune option, we will get you booked in to have the remap software flashed at our highly specked workshop facility in West Yorkshire. The price of this option includes before and after dyno runs. Our technicians can then go through the logs and show you the exact gains the vehicle has made in the power and torque figures.
When selecting the home-tuned option, we will dispatch a VUDU Performance tuning tool to your home address. This is a great option for tuning enthusiasts located a long distance from our workshop, whether that be in or outside of the UK. You will be supplied with a tuning guide to keep this process as smooth and as quick as possible.
As the Polo GTI 6c manual model is rather rare, there's a very good chance that your Polo boasts the automatic gearbox. We strongly recommend that you consider a TCU Software upgrade when flashing the ECU. The TCU software is designed to optimize the performance of the DSG, allowing the gearbox to function more efficiently and shift through the gears more smoothly.
Please note you are unable to flash the TCU with the tuning tool.
The map-only option is a flash-and-dash alternative where we flash the software from our workshop facility without using the dyno.
Polo GTI Stage 2 Tuning Package:
As we are providing the Polo GTI with stage 2 remap software, certain pieces of hardware are required in order for the vehicle to run safely. If this is going to bypass your budget, we would recommend you take a look at the Stage 1 VUDU Remap Software.
The hardware included in this tuning package has been hand-picked by our trained technicians. We have tested a number of different intake systems, intercoolers, and downpipes but the hardware included in this package outperforms them all. There is absolutely nothing wrong with any different brands if you already have them installed on the car. However, you might not see the peak performance figures that we quote in this VUDU ultimate stage 2 remap package.
By selecting the Add Supporting Hardware option from the drop-down menu, you will be adding the following pieces of hardware to your order:
Racingline Intake System:
The Racingline Intake System is an essential cooling upgrade to provide your VW Polo GTI with a far superior breathing system. This allows the vehicle to cool efficiently without occurring any temperature problems. During testing, we found the Racingline Intake gave us the greatest possible power and airflow results when flashed with the VUDU Performance remap software.
VUDU Performance Front Mount Intercooler:
Proven on both the road and the track, the VUDU Intercooler Upgrade is built to the highest possible standard by cooling specialists, VUDU Performance. Please drop a note in the comments section to let us know the intercooler finish and logo colour you require. This intercooler is available with various logo colour options.
Scorpion Exhausts Downpipe:
The final component required in our Stage 2 Remap Tuning Package is a downpipe, please select whether you require a Sports Cat or Decat from the drop-down menu. The Sports Cat Downpipe option increases the gas flow whilst maintaining the filtration rates. The Decat Downpipe option on the other hand simply replaces the catalyst altogether to provide you with the ultimate flow rate.
If you decide to go down the decat route, you will be eligible for the VUDU Performance Pops & Bangs Overrun Addon, which can be purchased separately through our website. But please note the Decat option is designed for motorsport use only and will not pass a UK MOT emissions test or police roadside check.
Stage 2 Polo GTI Software Features:
Need To Learn More?
For more information about our Polo GTI Stage 2 Remap Package, make sure to please contact us via phone or email. Our team of Polo GTI tuning experts will be able to guide you in the correct direction and answer any questions that you have for us.
If you have selected the fitting option, please get in touch to find a suitable booking date.
Take a look
You might also like